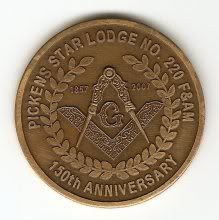 Along with about 200 others, including many of the brethren's family members, I attended the 150th Anniversary get-together at my lodge yesterday.
Pickens Star Lodge No. 220, F. & A.M., was chartered on October 30, 1857. The town of Jasper, Georgia was also founded that year.
You can
read more
about the lodge and the town in an article I posted several months ago.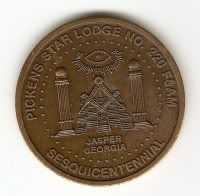 If you'd like to own a commemorative coin for your collection,
let me know
and I'll pass your request on to the lodge's secretary. The bronze coin costs $5, plus a small shipping fee. A few silver coins are still available at $20. Lapel pins are also available for $2.50.
Masons
|
Masonic History
|
Pickens Star Lodge No. 220, F. & A.M.
|
Freemasonry
|
Grand Lodge of Georgia
|
Burning Taper
|
BurningTaper.com