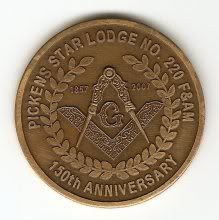 Pickens Star Lodge No. 220, F. & A.M, located in Jasper, Pickens County, Georgia is celebrating its 150th anniversary this year. The lodge was founded on October 30, 1857.
Pickens Star Lodge has the largest membership of the three Masonic lodges in Pickens County. The other two lodges are Blaine No. 534, to the west of Jasper, and Marble Hill No. 207 to the east. A lodge at Tate closed many years ago.
Established in 1853, Pickens County was named for South Carolina military leader and politician Andrew Pickens, who fought the Cherokee in 1760 and 1782, and fought in the Revolutionary War. Col. Pickens did have occasion to visit the county that came to be named for him, in 1782, when he hung six British loyalists near Nelson.
As early as 1836 marble was being quarried in Jasper. Today Pickens County marble is world famous; many of Washington, D.C.'s buildings and monuments were built with marble from the Tate mines just east of Jasper.
Pickens Countians weren't keen on fighting the Civil War. They had no "dog in that fight," being a tucked-away town minding its own business. There were no plantations or slaves in the area, and then as now, native Pickensians are a clannish group. There are still very few blacks in the area; the 2000 census showed there were approximately 23,000 residents in the county, but only about 200 of them black.
In 1861, to protest the secession of the state, residents flew the Union flag — then the flag of the nation — over the courthouse for a month in defiance of Georgia's secession. Were it not for the fact that the governor of Georgia at that time was from Gilmer County, just to the north of Pickens County, Confederate troops would have stormed Jasper to take down the Union flag and replace it with the Confederate flag. The governor told the gathering Confederates in Atlanta to give them some time: "They're good ol' boys... they'll come around." Within a month, Pickens County reluctantly raised the rebel flag (and they haven't lowered it since, but that's another story).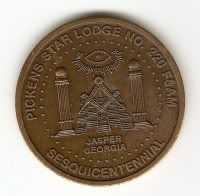 Even during the War, Pickens County remained strongly pro-Union. Only minor engagements occurred in the county. After the War, returning gangs of southern ex-soldiers did more damage to the homes and crops than the Union ever did.
Pickens County was a center of Native American culture. In a
previous article
, I told about Fort Talking Rock and the graveyard of Cherokees who died awaiting the long walk to Oklahoma on the Trail of Tears, which began in this area along the Federal Road in 1837.
Pickens was one of the earliest counties with white settlers in Georgia, outside the coastal areas. Many called the town of Talking Rock, about five miles northwest of Jasper, home. In the 19th century they ran inns and taverns for the travelers on the Federal Highway.
In an area known as Taloney to the Cherokee and Talona Station to early white settlers, missionaries built a town where they Christianized the Cherokees.
The town of Jasper was named for Sgt. William Jasper, a Revolutionary War soldier. The town was incorporated in 1857, the same year as the Pickens Star Masonic lodge.
An 1876 directory shows there were 110 residents in Jasper. The town was made up of a Baptist church, a Methodist church, three general stores, two doctors, a seller of sewing machines, a blacksmith, a cobbler, a teacher and a postmaster, the directory indicated.
What else was going on in the world in 1857, the year the Pickens Star Masonic lodge and the town of Jasper were chartered?
Giuseppi Garibaldi, a Freemason, named his donkey Pio Nono, after the then-pope, Pius IX. In 1857, Garibaldi moved back to Italy after living in the U.S. for five years, working as a candle maker, and formed the Italian National Association, which eventually re-united Italy.


Benito Juarez, another Freemason, was appointed the head of Mexico's Supreme Court by the nation's new Congress, effectively making him vice president of the country.


William Walker, an American and a Mason, as dictator/president of Nicaragua, seized overland transportation properties belonging to the New York-based Accessory Transit Company, which operated between Atlantic Coast ports and San Francisco by way of Nicaragua. Led by (unconfirmed Freemason) Cornelius Vanderbilt, the company financed a coalition against Walker, who escaped capture by surrendering himself U.S. Navy Commander Charles Henry Davis who had intervened to try to avoid bloodshed. Walker escaped after being returned to the U.S., and was again captured some months later in Nicaragua by Commodore Hiram Paulding, who was later appointed to head the Navy by President Abraham Lincoln (an Entered Apprentice Mason).


John Rock — Freemason, lawyer, physician — was the first black attorney to be admitted to practice before the U.S. Supreme Court. He traced his desire to become a lawyer to the 1857 Dred Scott decision, which ruled that Scott, a fugitive slave, was a non-citizen with no legal standing. The ruling further said that a black man could not bring suit in a federal court, that living in a free state does not make him free, and that Congress had no authority to ban slavery. This ruling by the U.S. Supreme Court led by Chief Justice Roger B. Taney (no masonic affiliation found), was supported by President James Buchanan, a Freemason. Chief Justice Taney holds the distinction of having sworn in more U.S. presidents than any other chief justice. Two of those, James Buchanan and James K. Polk, were Masons.
What else happened in 1857?
Elisha Kent Kane, Arctic explorer and physician, died at age 37.


William Colgate, co-founder of Colgate-Palmolive, died. He was not a Mason, but his partner, William Sims, was.


The

New York Tribune

fired all but two of its foreign correspondents in an economy move. One of the two retained was Karl Marx.


The novel

Madame Bovary

, by French novelist and Freemason Gustave Flaubert, was published. He was prosecuted for immorality but was acquitted. The publicity made his book a bestseller.


Henry Wadsworth Longfellow's poem "Santa Filomena" was published. It is a tribute to nurse Florence Nightingale. One line of the poem is "Lo! in that house of misery/ A lady with a lamp I see."

Longfellow is more famous for his poem about Paul Revere.

Longfellow lived much of his life in Hiram, Maine. Early settlers Gen. Peleg Wadsworth (Henry Wadsworth Longfellow's grandfather) and Timothy Cutler, for whom nearby Mount Cutler is named, were both Freemasons. They felt that the abundance of timber in their town resembled the biblical description of a land called Tyre, and they decided to name the town after Hiram, King of Tyre.


Freemason and composer Franz Liszt's symphonies and concertos were all the rage.

Piano Concerto in A major

and

Symphonic Poem No. 1

opened in January at Weimar's Grand Ducal Palace;

Sonata in B minor

by Franz Liszt premiered later that month in Berlin with pianist Hans von Bülow, who married Liszt's daughter Cosima in August.

The Faust Symphony in Three Characters

, named in honor of Goethe, by Liszt opened at Weimar's Grand Ducal Palace in September; his

Symphony to Dante's Divine Comedy

in Dresden in November; and

The Battle of the Huns (Die Hunnenschlacht)

symphonic poem played at Weimar on December 29. That's some Lisztomania.


Two songs which became Christmas classics were written in 1857: "We Three Kings of Orient" by English-born U.S. clergyman John Henry Hopkins, Jr., and "Jingle Bells (One-Horse Open Sleigh)" by Boston composer James Pierpont.


The first commercially produced toilet paper hit store shelves in 1857. Gayetty's Medicated Paper for the Water Closet was introduced in New York by Joseph C. Gayetty, who sold the product in his shop in lower Manhattan. It sold for 50 cents per 500 sheets, and was watermarked with the name J. C. Gayetty on each sheet. It was advertised as being "conducive to comfort. It is elegant and pure. It is proven beyond doubt to be the finest and purest paper ever made from Manila hemp, and four grand medicines incorporated with the pulp render it a sure cure and preventive of piles."


In England, Parliament eased British game laws after years of harsh penalties that made anyone caught poaching liable to be sent to Australia for seven years. That year, they also made getting a divorce a lot easier.


The world's first commercial passenger elevator was installed at 488 Broadway in a five-story New York china-and-glass emporium, a new building designed by Irish-born architect John Plant Gaynorl Badger. It was installed by Elisha G. Otis, who invented the brakes for elevators.


Italian honeybees were introduced into California. California is now the leading producer of honey in the U.S.


Commercial production of Borden's condensed milk began at Burrville, Connecticut. First sold in New York, Borden's promoted sales by crusading against "swill milk" from Brooklyn cows fed on distillery mash. Samples of Borden's product were given away on the streets of New York.


James Clerk Maxwell proved mathematically that Saturn's rings are composed of many small bodies orbiting the planet.


Alexandre-Edmund Becquerel experimented with coating electric discharge tubes with luminescent materials, a process that eventually led to fluorescent lamps.


Gustav Kirchhoff discovered that static electricity forces and magnetic forces are related to each other by a constant that turns out to be the speed of light in a vacuum, a clue that electromagnetism is related to light.


The excavation of the tunnels for the London Underground railroad, or subway, began, using a method of iron casings developed by Marc Isambard Brunel while building the first tunnel under the Thames River.


John Townsend Trowbridge published his

Neighbor Jackwood

, an antislavery novel that became notorious for featuring a marriage between a white hero and a multiracial (daughter of a Frenchman and his slave) heroine.


Frank J. Webb wrote

The Garies and Their Friends

, one of the earliest novels by a black American, portraying a white Southern aristocrat and his mulatto wife and a middle-class black family. It is considered the first fictional work to describe free Northern blacks, a lynch mob in a free state, a mixed marriage, and the theme of passing for white.


"Masonry originated with the Devil and will end with the Devil," said Peter Cartwright. Cartwright, then age 72, published his

Autobiography of Peter Cartwright, the Backwoods Preacher

, in 1857. It's the personal story of the life of the traveling preacher who led frontier camp meetings for fifty years in Kentucky, Tennessee, Ohio, Indiana, and Illinois and unsuccessfully ran for Congress against Abraham Lincoln. It became a guidebook of sorts for circuit-riding Methodist preachers.


Fitz Hugh Ludlow published

The Hasheesh Eater

. Ludlow achieved a sensation with a confession of his experiences as a drug addict. He regularly smoked hashish with Mark Twain, a Freemason, and reportedly taught author Robert Louis Stevenson to smoke it as well.


James Parton wrote

The Life and Times of Aaron Burr

. Parton's careful research made this book a classic, objective biography of the much-despised Burr, a Freemason.

North American Review

declared that "it ought to be read by every American who would know the history of his own country."


The Sheffield Football Club, the world's first soccer team, was founded in England.


The 12th Dali Lama was born.


Britain's Lord Robert Baden-Powell, who based his Boy Scouts organization on Masonic principles, was born.


Pope Piux XI was born.


William Howard Taft, who became a Freemason and U.S. president, was born.


Sir George Cayley, English aviation pioneer and inventor, died. He had been Master of Old Globe Lodge #267 in Scarborough, Scotland, in 1822, 1846 and 1847.
Happy Birthday, Pickens Star Lodge!
Sources: Wikipedia, Answers.com, RoadsideGeorgia.com, and other references
Masons
|
Masonic History
|
Small Town Freemasonry
|
Freemasonry
|
Pickens Star Lodge
|
Jasper, Georgia
|
Pickens County, Georgia
|
1857
|
Burning Taper
BurningTaper.com